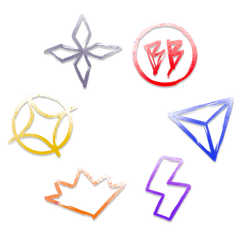 Set Your Heart is a Hypnosis Microphone SFW fanzine focusing on the characters of Hypnosis Microphone being brought to life in different AUs and settings by talented artists and writers!

Interest Check: Sept 9 - Sept 29
Mod Applications: Oct 3 - Oct 15
Mod Application Results: Oct 17
Mod Announcements: Oct 21 - Oct 25
Contributor Applications: Nov 1 - Dec 1
Contributor Results: Dec 5
Concept Planning/Idea Claiming: Dec 10 - Dec 15
Check-in 1: Jan 15
Check-in 2: Feb 15
Check-in 3: Mar 15
Final Pieces Due: Mar 20
Pre-orders Open: May 23
This schedule is subject to change.

Set Your Heart is a Hypnosis Microphone for-charity physical fanzine, focusing on placing the characters into different AUs and settings.
🌈 The zine's contributors can choose any setting/AU they wish to put the characters in!
🌈 Ship content is allowed, as long as it is SFW.
🌈 This fanzine is organized by @mooniedoesart on Twitrer.

Is the zine physical or digital?

The zine will be A5 in size and there will be both physical and digital versions available for purchase!
How many contributors will there be?
There will be 33 contributors: 20 artists, 10 writers, and 3 merch artists!
How will contributors be compensated?
If sales allow, participating contributors will be provided a physical copy of the zine, including the merch bundle! However, if sales aren't enough, all participants will receive a free digital PDF copy.
Is the zine for-profit or for-charity?
The zine will be for-charity. The charity that proceeds will be donated to will be announced soon!